NFL Rookie Watch
It is always interesting to see how a Draft Expert's projections turn out, and we here are very intrigued by this years class of rookies. Every week we give you the top 5 players in the hunt for Rookie of the Year on the offensive and defensive side of the ball. Click here for the Defensive Rankings.
1. Cam Newton- QB Carolina Panthers
Newton had his first game in which he threw for under 400 yards this past week against the Jags. Much of that can be attributed to the fact that the Panthers and Jaguars played their game on a field that resembled the Florida Everglades for much of the game. Completing passes would have been difficult for anyone.
However, Expect Newton to have more "humanly" statistical performances like he did against the Jags, and less like he did against the Packers and Cardinals. Also, with Julio Jones and now Torrey Smith rising up, don't expect to see Newton here at number one much longer.
2. Julio Jones- WR Atlanta Falcons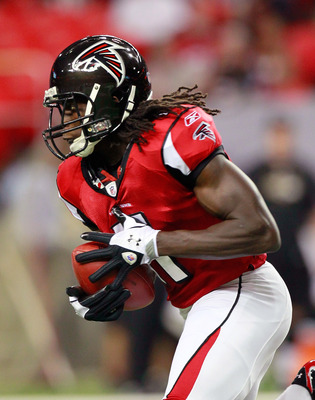 The Atlanta Falcons have looked absolutely putrid through 3 weeks of football, but one of the lone bright spots has been their rookie receiver that they invested so much in.
After having a down week in which he lined up against an all-pro on every snap against the Eagles, Jones took it to the Tampa Bay Buccaneers this weekend, catching 6 passes for 115 yards, including a 49-yard grab.
With Jones playing like anything but a rookie, we expect him to jump to the first spot in our rankings soon.
3. A.J Green- WR Cincinnati Bengals
After having a monster week against the Broncos, AJ Green took a step back against the 49ers. Green caught just 4 passes for 29 yards. Don't expect to see many more performances like this out of Green. He will get better and better with each week.
However, I worry that starting Rookie QB Andy Dalton will hold him back from really playing at the level that he can. If the Bengals were smart, which they aren't, A.J Green would be getting the ball force fed, as they really don't have any other playmakers out there.
4. Daniel Thomas- RB Miami Dolphins
The Dolphins are absolutely awful this year, and there aren't many bright spots. One thing that appears bright for the future though, is Daniel Thomas.
Thomas had a tough task trying to run between Ahtyba Rubin and Phil Taylor, but Thomas did just fine. Rushing for 95 yards (4.1 YPC), and also had a Receiving Touchdown. As the Dolphins lose more and more confidence in Chad Henne, look for them to keep the ball in Thomas' hands. He's really going to have to step up this week when the Dolphins head to San Diego to take on the Chargers and their elite run defense.
UPDATE: It appears Thomas will not play against the Chargers.
5. Torrey Smith- WR Baltimore Ravens
Whoa! Where did that come from? After not having a single catch in the first two weeks, Torrey Smith took advantage of a Lee Evans' injury to light up the St. Louis Rams for 152 yards and 3 touchdowns. Don't be too quick to judge this as a fluke either, Smith and quarterback, Joe Flacco, seem to have found a rhythm.
With Smith's ability to stretch the field and make plays up top, I'm sure we'll be seeing a few more of these performances this year. This week however, whether he lines up against Antonio Cromartie, or Darrelle Revis, Smith will have a tough time matching last week's performance when the Jets come to Baltimore this Sunday.