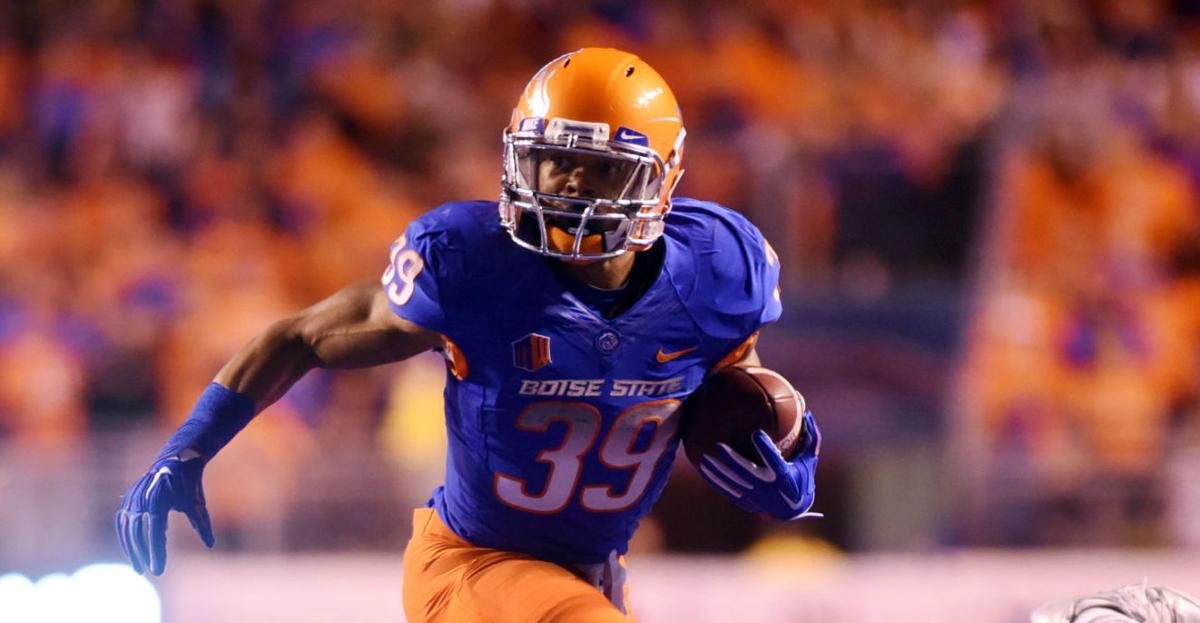 Kelsey Young began his career at Stanford as a highly recruited running back, but part of a very deep group. Although he contributed and even had his own package, he was never truly a featured option in the offense.
After graduating, Young opted to take a post grad year at Boise State focusing on his MBA while playing a final season in college for the Broncos. In this final year, he got to be a much bigger contributor for the offense and be a bigger prospect for the NFL Draft.
Now, Young is trying to take his game to the next level and combined with an impressive Pro Day performance, he is a versatile option that can help a team as a back or receiving threat in addition to being a returner.
Pete Smith: How do you go from one of the most beautiful campuses on the planet in Stanford to Boise State?
Kelsey Young: Yes, well, it's a funny story. Boise, they offered me a good opportunity to play a more traditional role as a running back. Being able to pass protect, go and run between the tackles, power scheme, gap scheme, inside zone, things like that.
At Stanford, it was more running back by committee, so it was more akin to what you're best at. And me, my specialty was more like speed sweeps and outside zone, slot receiver stuff. So when I went to Stanford, we had like 10 running backs in the room, so it was just heavy depth out there anyway, so my 5th year, I was just thinking I need to be able to prove that I can do it all and luckily for me, Boise offered me that opportunity.
PS: That spot at Stanford, did you call it a slot back, H, Y, or what was that position called?
KY: To be honest, it was my own position. In the gameplan, we had a whole section that was titled 'The Kelsey Plan' and it was stuff for me, whether I was going to be a running back or a slot or a receiver. Literally, I was playing a Z receiver, slot receiver, running back 2, but they didn't put a name for it other than being the Kelsey Role.
PS: You got to score a big touchdown in the Rose Bowl against Wisconsin (Stanford won 20-14). Do you consider that the most memorable play of your career?
KY: Definitely one of them. It was definitely on the biggest stage that I played on in my career. Opening touchdown, being able to get the momentum going for the team; that was one of the only two touchdowns Stanford scored for that game. It was definitely a memorable moment helping us win the game. It was one of many during my college career.
PS: So, after that game, did you think you were going to have a larger role in the offense, even if it was just expanding the Kelsey Role?
KY: Yea, exactly. It was no secret that whenever I'm on the field, the team had a better chance of scoring, of winning, of, you know, getting things done. And so, that kind of increased my role in me playing more, my kick return and stuff like that. Even doing more running back stuff my senior year. More receiver stuff, more all-around.
PS: Were you satisfied with the year this way went as Boise State?
KY: I went there to fulfill that traditional role at running back. I definitely like I accomplished that. But definitely, my goals were to help the team be more successful. It wasn't the best season in terms of Boise State, you know, success they've had in the past. So, in terms of winning percentage and all of the accolades and stuff, I wouldn't say it was the most storied season, but I definitely got what I went there for.
PS: What was the biggest difference between going to Palo Alto and then Boise?
KY: I mean football wise, the biggest difference was the offense. At Stanford, it's a pro-style offense. It's about controlling the clock and at Boise, it's lights out. You're running about 100 plays a game. Tempo is way, way faster and just the way they attack the defense was different, but I think that was really beneficial for me because I got to play in two of the most widely used offenses that I'll see.
Like if I'm fortunate enough to go with the (San Francisco 49ers) 9ers and go with the Chip Kelly offense, like I've seen that at Boise, but like 90% of the league runs a pro-style offense and I've seen that at Stanford so I've gotten the best of both.
PS: What about off the field?
KY: Off the field, I think every school has their own culture. Boise is a place where football is everything because that's the highest ranking sport. There's no pro sports or anything out there, so the whole town, you know, shuts down to go see Boise State games and that was a unique experience for me.
At Stanford, it was different because everybody's kind of into their own thing; not necessarily, you know, football. Football was just on the rise once I got to Stanford. (Laughs), You know, It's called the library for a reason. I think just coming from Stanford, it was really cool to Boise too just to see the atmosphere for football and everything. Of course going to Stanford was a great experience overall not only because of football but academics and the people that you meet are outstanding. Unique experiences but equally effective in shaping my college experience.
PS: But I'm guessing you had to invest in a coat.
KY: (Laughs) Yea, I did. I got a couple like snow jackets when I went up to Boise. Me being born in Southern California and still being in California when I was at Stanford, I never really grew up around snow or cold weather for that matter, but going to Boise was definitely a shock to my system, but I adjusted well and definitely appreciate the warmer weather now that I've been out there.
PS: I listened to an interview where you said you had considered retiring from football, so ultimately what has you continuing to still pursue a career in football?
KY: I know it upset a lot of people, but I am a man of faith and I kinda just felt like I got a personal call from the man upstairs, saying that you have this talent in football, so you should definitely utilize it. Really, that was the motivational factor for me to get back in the game.
I started training for my Pro Day late, so like the end of January. And fortunately for me, I was able to find an agent real quick and find a place to train real quick and it all worked out. You know, I had a pretty solid Pro Day and all 32 teams were there. I think it's going to be a good situation for me around draft time and after draft time.
PS: Has anyone challenged you on that or if they were going to, saying something along the lines of "You already had a foot out the door. How am I going to believe you're here for the long haul?" How would respond to that?
KY: At the end of the day, football is something I've been playing since I was 8 years old, so I think any endeavor will have setbacks and have times where it's harder to keep going, but what makes a person great is their resilience and their persistence. If Tom Brady gave up after being 199th pick and all hope was lost, he wouldn't be the greatest quarterback that we know today.
So I just say that I'm in it for the long haul and this is something I'm invested to do. I have a lot to prove and I feel like I can bring a lot of value to a team. I just want to help a team be successful over the next 5 or 10 years, whatever it may be. I definitely have aspirations for the long term right now.
PS: With the different roles you've played at Stanford in the Kelsey Role and at Boise State as a more traditional running back, how would you characterize what you bring to the table to the NFL?
KY: I am a dynamic player. I can pass protect. I can run between the tackles. I can run outside of the tackles. I'm very intelligent. I rarely, if ever, miss a call or read a blitz or a linebacker wrong. I know how to recognize defenses. I'm really a quick learner on any offense. You know, being in two different offenses in college, I think I'll be able to adapt to whatever's thrown at me in the NFL pretty quickly.
I think I'm a dynamic player where whenever I'm in the game, I'm liable to score or get a 1st down or something positive, always helping the team and I can do it from any position. I can do it from the running back, from the slot, from outside, special teams, you know, just put me in there and let me contribute to the team's success. I will prove that I can do that.
PS: At your Pro Day, did you work out exclusively at running back or did teams want to see you line up wide and run a receiver route tree?
KY: So at Pro Day, I did a little bit of both. Like I caught some slants, caught some fade balls, and I did a lot of running back stuff, you know, out of the backfield. Not just the typical routes like the check downs, but I was out there running corners, I was doing seam routes. I really checking the defense vertically and I caught all the balls, like my routes were smooth. Scouts definitely got to see a little bit of everything.
PS: You got to return kicks at Stanford and this past year, you returned kicks and punts. How good do you feel about your ability to help on special teams?
KY: Yea, I'm really excited. I think special teams is definitely a game changer. I am very committed to that every week at least getting two sessions in catching punts, catching kickoffs from one o fthe local punters and kickers here. Yea, so I'm definitely excited to invest more into that role. Anytime I touch the ball, I'm liable to score or get something positive, so I definitely see how that can contribute. I'm definitely gonna take full advantage of that.
PS: Would you rather get the ball handed to you in the backfield or catch it out in space?
KY: That's the funny thing, man. I like both. I like to bring just a little random tactic to it. I like to keep defenses guessing. Whatever the defense thinks I'm gonna do, I'm gonna do the opposite and score off of that, so I work on my route running and my hands as much as I do my footwork and my handoffs. Really, whatever is going to give us the best chance to score a touchdown on that play.
PS: Is there part of you that feels like college hasn't utilized you as well as the NFL might?
KY: Yea. I actually do think that. I think I have the ability to be both a bruiser and a more agile back. I grew up and went to the same High School as Toby Gerhart, so the same thing that his dad (Steve Gerhart, Norco High School's Head Coach) taught him, he taught me. I know how to lower my shoulder and be a physical runner.
Honestly, if you watch my film, you can see that. But at the same time, I'm really explosive and I can make people miss, so I definitely think that I could've been utilized more in college but, you know, that's why I get another chance in the NFL to prove that to people, get the opportunity to invest into that skill that I have. The past may not have been what I wanted, but at the same time, I have a future I can still fight for and who I believe I am and who I've shown I can be.