Rookie Report: Cardinals vs. Raiders

Al Davis certainly likes playing to type. Long criticized for being obsessed with workout numbers, Mr. Davis selected a number of freakish athletes this April, including a few who had less than impressive college careers.
While mocking Al's bad picks is plenty fun, his draft method has yielded some very impressive hits. Yes, Darrius Heyward-Bey still seems like a brutally awful selection, but track guy Jacoby Ford looks like a fourth round steal. More likely than not, the team's '11 draft haul will yield disappointments of the DHB sort, as well as exceptional athletes who became very good football players.
In the first preseason game, the coaching staff may have seen hints of who will thrive or flatline in Oakland.
The biggest standout was wideout Denarius Moore. The Tennessee product made plays both as a receiver and a returner. Early in the 2nd Quarter, he slashed through the defense on a 26 yard reception. He was even more impressive showing off his explosiveness on a 57 yard punt return, which unfortunately was nullified by a penalty.
Moore didn't put together a perfect performance — he dropped a would-be first down grab and wasn't able to bring down a ball in the end zone — but the coaches have to be pleased that Denarius already is showing big play ability.
On the other hand, the defensive coaching staff can't be happy with the play of third round cornerback Demarcus Van Dyke. DVD's tremendous speed stands out but so does his rail-thin frame. At 6'1″, 176 lbs., he struggles to win matchups against physical receivers. At times, it looks like he isn't even trying to win 'em. On one play, DVD managed to run step for step with Larry Fitzgerald but didn't go up to get the ball, allowing Fitz to bring it in for a big gain. And he was in on a Stephen Williams touchdown grab later in what was a very rough game for him.
While DVD's play was underwhelming, seventh round USC size-speed freak David Ausberry's play was encouraging. The 240+ pound weapon may have a bright future as a receiving tight end, with the initial evidence being his excellent 18 yard TD grab. He bolstered his case for a roster spot by getting right back out there after the touchdown to make a tackle covering a kick. Continuing to excel on specials would be big for him, as it would buy him time on the 53 man while he develops into a solid all-around TE.
With Kevin Kolb newly locked in as Arizona's long-term starter, it's fitting that the team's rookie offensive weapons were the ones who impressed. While he wasn't able to convert on multiple goal line opportunities, former Hokie running back Ryan Williams flashed some explosiveness and impressive cutback ability. Hopefully, the fat guys on the o-line will get around to opening up bigger holes for the rookie back.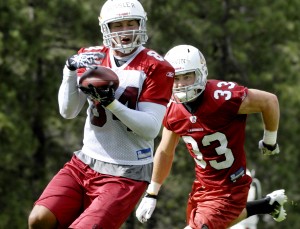 Somehow, wideout DeMarco Sampson and tight end Rob Housler made journeyman quarterback Richard Bartel look like a world-beater. Sampson managed to get open deep for a 41-yard grab. And Housler made things easy in the red zone, hauling in a nine yard TD rec. Of the two, Housler may be the only one ticketed for immediate duty, but Sampson's fighting hard to earn a roster spot and eventually a role on offense.
Rookie defenders Patrick Peterson and Sam Acho had fairly nondescript nights, not doing much to impress or disappoint. Peterson made a few plays in run support but failed to get his hands on the pigskin, instead giving up a few completions. And while Acho appeared to be adjusting well to playing outside linebacker, he wasn't very disruptive rushing off the edge. Hopefully, they'll soon outmatch the contributions of their counterparts on the other side of the ball.