Week One Risers/Sliders
Risers
Sam Montgomery DE LSU
Montgomery is someone to keep an eye on. A redshirt sophomore, Montgomery has limited playing experience but is showing potential. Against Oregon, he was getting relatively consistent pressure against Oregon QB Darron Thomas and racked up 4 tackles and forced a key fumble in the 3rd quarter that seemed to change the momentum of the game. Montgomery was named to the 2010 Freshman All-SEC team, even after missing most of the season with a knee injury. If Montgomery can continue to produce as a member of an inexperienced LSU defense, he's certainly someone to watch.
Sliders
LaMichael James RB Oregon
In his first game since a pedestrian performance against Auburn in the National Championship, James wasn't able to bounce back the way he needed. Though he was hindered with leg cramps during much of the game, James only mustered an average of 3.0 yards a carry (18 carries for 54 yards), looking ineffective running the ball against a strong but young LSU defense. James looked a little better catching out of the backfield but this shouldn't be a surprise. James needs to show that he's more than a just another guy that is impressive in space. His two most recent games were against tough SEC defenses, which is always an indicator to me about how a player might do at the next level. With running backs being "a dime a dozen" these days, James needs to show more if he wants to slip into the 1st round of the 2012 NFL Draft.
Cliff Harris CB Oregon
You might ask yourself why Harris is on the list when he didn't play in the game. However, the absence of Harris hurt the Ducks against LSU and was painfully obvious as the replacement punt returner coughed up a key fumble and LSU was able to throw the ball effectively, even without starting QB Jordan Jefferson. With Harris being suspended "indefinitely" and the NFL focusing a lot of attention on off-field issues and activities, Harris' stock is dropping…without even stepping on the field.
Risers

Michael Floyd WR Notre Dame
Though Notre Dame's offense had an up & down day, Floyd looked dominant beating down USF's secondary. For the most part, the corner opposite Floyd played off coverage, which worked to his advantage. He managed to turn short completions into big gains, stiff-arming corners past the sticks and plowing forward as defensive backs tried to drag him down. And when corners faced him at the line, he managed to beat them over the top, including for a 24 yard TD grab. His 12 catch, 154 yard, 2 TD stat line reflects the explosiveness he's regained after playing heavier last year. That explosion, along with his physical style of play, should allow him to live up to the first round grades he's received from NFL teams.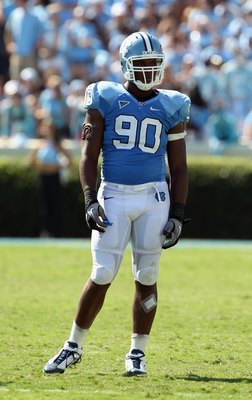 Quinton Coples DE North Carolina
Several Tarheels put up big numbers against their cupcake competitions – wideout Dwight Jones brought in nine passes for 126 yards, and linebacker Zach Brown notched 2.5 tackles for loss – but Coples' two sack performance may be the most significant. In the last two years, big men Carlos Dunlap and Allen Bailey tantalized draftniks with their physical ability but failed to live up to their potential. But from the looks of it, Quinton Coples will avoid those big men's issues. Unlike Dunlap, he plays with a fiery, almost Suh-like demeanor: he spears ball-carriers as they're falling to the ground, and when he gets to the QB, he makes it count. And unlike Allen Bailey, he's quick off the ball and knows how to use his length and strong hands to disengage from blocks. Simply put, Coples looks like the real and should be a top five pick next April.
Melvin Ingram DE/LB South Carolina
Just like last year, Melvin Ingram was deployed at multiple spots, which now seems to be a plus for his effectiveness and draft stock. Against ECU, Ingram, he was disruptive playing with his hand up or in the dirt, lining up inside and out. He's also maximized his explosiveness with improved technique. In 2010, Ingram was slow of the ball; now, he's very quick off the line. He's also added a swim move to go along with the spin move that absolutely embarrassed James Carpenter. Ingram also showed a nascent ability to play in space, closing on the ball to make an impressive interception. His versatile skill set should appeal to a number of teams, but 3-4 squads will watch closely as Ingram continues to improve.